MESUTRONIC Gerätebau GmbH
Georg Hübner
Hackenfeld 13
94259 Kirchberg im Wald
Germany

Tel.: +49 9927 9410 0
14.07.2019 - MESUTRONIC becomes part of the Indus Holding AG
CEO Karl-Heinz Dürrmeier (left) introducing Mesutronic on the Indus Holding AG investor summit together with chairman Dr.-Ing. Johannes Schmidt (right)
The Indus Holding AG from Bergisch Gladbach acquires a majority share of the detection system specialist located in Kirchberg im Wald, Germany.
Investment company Indus is specialized in company succession in SME's and long term and sustainable enterprise development. The operative management will stay unchanged for the foreseeable future. As daughter company, also the Mesutronic France SAS becomes part of the Indus Holding AG.
In over 25 years of company history, the Mesutronic Gerätebau GmbH lived through different stages of growth. The operative business started in 1993 with a staff of 5. Today more than 40.000 systems have been sold to over 50 countries, while the company grew to over 210 employees.
To secure further development in the future, the company owners, mostly still working actively in management, have decided to settle the matter of succession early on. "We had time to decide on a really fitting partner" says Karl-Heinz Dürrmeier (60), CEO and managing partner of Mesutronic.
Die Indus AG is an expert for succession in medium sized enterprises and so called "Hidden Champions". Dr.-Ing. Johannes Schmidt (58), chairman of the Indus AG gives a clear statement on this topic: "As the leading specialist in the field of sustainable investment in the German-speaking SME sector, we acquire mostly owner-managed companies and assist them in setting a long-term trajectory for their entrepreneurial development." The group currently holds shares in 45 companies of various industries, amongst others in engineering, life science and automotive technology.
"With Indus at our side we are well positioned for the future. In addition to our own resources, we can now tap in the entrepreneurial know-how and the support of a company family with more than 10.000 employees. With this backup we can now focus on boosting our future development projects." explains Karl-Heinz Dürrmeier further.
The operative management staff will remain unchanged for the next years to come. Also, in terms of customer or supplier relations there are no changes to be expected.
01.08.2016 - Mesutronic harvests fruits of new alignment
Turnover with foreign body inspection systems increases by 7.9 percent to 16.4 M Euro in 2015/product range expanded: "easySCOPE" inspection system and fully automatic test system "autoTEST" newly introduced on the market at specialist trade fairs/town bypass Kirchberg: Southern bracket urgently required for business operations.
KIRCHBERG IM WALD (22 July 2016) – An eye on quality in packed products: Mesutronic Gerätebau GmbH increased its turnover with inspection systems for foreign body recognition by 7.9 percent to 16.4 M Euro in 2015. With double capacities and products newly introduced on the market, such as an X-ray scanner and fully automatic test systems, the developers from lower Bavaria want to increase their turnover to 25 M Euro by 2020. "We already harvest the fruits of our structural re-alignment," emphasises Karl-Heinz Dürrmeier (57), managing shareholder of Mesutronic Gerätebau GmbH. The company, headquartered in Kirchberg im Wald (district Regen) employs 158 persons (13 more than in the prior year) and is represented in more than 40 countries around the world.
Two new product series are to ensure further growth in Germany as well as internationally in 2016 according to Karl-Heinz Dürrmeier. The newly developed inspection system "easySCOPE" recognises metallic and non-metallic contamination in packed products (stones, glass and plastics). Another highlight is the new "autoTest" test system that supports users in daily work and ensures process safety and product quality. The result of the internal fitness program and the new alignment of the last years were better channels to the markets. "We have more sales potential internationally than in Germany," says Dürrmeier. The export ratio remained unchanged at 67 percent as compared to the prior year.
Rising demand from the food industry
According to Dürrmeier, the food area is the global growth driver for the foreign body inspection industry. "With a growing population and more wealth as well as higher quality awareness, the demand for industrially produced foods increases." Thus, the global demand for inspection devices to monitor product quality and protect machines from destruction increases.
Larger site in Kirchberg
Mesutronic dared to take some decisive steps in 2015 for future growth: The capacities at the Kirchberg im Wald site have been nearly doubled. According to Karl-Heinz Dürrmeier, the production area was enlarged by 3,500 sqm to 6,000 sqm in 2015, the office area from 800 sqm to 1,800 sqm and the storage area from 600 to 1,300 sqm.
Dual training
For further growth, MESUTRONIC Gerätebau GmbH requires qualified specialists. To counter the specialist deficit, the inspection device manufacturer relies on in-house training: At the moment, 18 young employees are being trained in Kirchberg according to Karl-Heinz Dürrmeier, four of them in office and administration and the other 14 in the technical area. Transfer into regular employment was a matter of course after successful completion of training. Well-founded practical training is important to Dürrmeier. "Nothing beats a three-year apprenticeship as a basis." After the practice-orientation, theoretical further training, e.g. in the courses of study "engineering" or "electrical engineering" was very sensible. This dual training system led to the ideal employees for a medium-sized operation. "Qualified training and further training is the best solution strategy to counter a lack of specialists," says the Mesutronic manager.
Demand for southern bypass
According to Karl-Heinz Dürrmeier, the people and companies all support the continued development of the Kirchberg bypass. To date, politics had only met half of the demands. The northern bracket of the district road REG 12 was released in November 2015. However, the southern bypass section was still missing. "When the companies in the industrial area grow and expand, so does truck traffic. That's what we need the southern bypass for," Karl-Heinz Dürrmeier demands.
About Mesutronic Gerätebau GmbH
Mesutronic Gerätebau GmbH is among the globally leading developers and producers of innovative foreign body recognition systems. The medium-sized company headquartered in Lower-Bavarian Kirchberg im Wald (district Regen) achieved a turnover at 16.4 M Euro in 2015. Metal and non-metal recognition systems by Mesutronic are used in the industries of food, healthcare, plastics, textile, wood and mining to protect consumers and machines. 158 employees, including 18 trainees, work at the site in Kirchberg im Wald. Mesutronic set out with five employees and an area of 250 sqm in 1993. Since 2005, the Lower-Bavarian metal detector manufactures have been producing in a company building with 2,500 sqm production and 800 sqm office area. Capacities were increased to 6,000 sqm production area, 1,800 sqm office area and 1,300 sqm storage area in 2015. Mesutronic is represented with service and sales offices in more than 40 countries in the world.
01.06.2015 - Groundbreaking ceremony for business extension of MESUTRONIC
More space for innovation. MESUTRONIC Gerätebau GmbH invests this year 5.5 million Euro in the expansion of the company structure.
The building space of nearly 4,000 square meters will be enlarged to more than 9,000 square meters till end of January 2016. "With this investment we
set the foundation for the continuous expansion of our business, especially in the new field of X-ray technology" tells informs managing director Karl-Heinz Dürrmeier.
Mesutronic Gerätebau GmbH began in 1992 in Höllmannsried on 250 square meters with five employees to develop and
to manufacture the first metal detectors. Continued growth and expansion of production capacity resulted to 145 employees today.
In 2014 MESUTRONIC generated a turn-over of 15 million Euros at the company headquarter Kirchberg im Wald.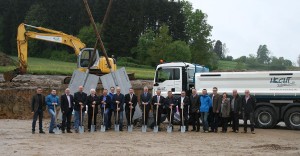 Groundbreaking ceremony with CEO Karl-Heinz Dürrmeier(5th f. l.),
designer Georg Lorenz (4th f. l.) and district administrator of Regen Michael Adam (9th f. l.)
Metal detection systems of MESUTRONIC are used in the industry sectors food, healthcare, plastics, textile, wood and mining for consumer and machine protection.
MESUTRONIC is represented by distribution partners in more than 40 countries around the world.
20.05.2014 - Global pioneer part for Lower Bavarian developer
Metal detection: MESUTRONIC provides for more process-reliability
New automated test system makes metal detection more secure / Sales increase 2013 of 10.8 percent to 14.4 million Euro (2012: 13.0 Mio. Euro) / Number of employees increased of eight to 138 / global active in 40 countries
KIRCHBERG IM WALD (20.05.2014). The manufacturer of inspection systems MESUTRONIC has increased its sales last year to 10.8 percent. The sale of electronic devices for detection of metallic foreign bodies – such as in food industry – was amounted 14.4 Million Euro (2012: 13.0 Mio. Euro). The signs of plant and sales shows growth: We want to increase sales in 2020 up to 25 million euros, explained Karl-Heinz Dürrmeier (55), managing partner of MESUTRONIC Gerätebau GmbH domiciled in Kirchberg im Wald (district Regen) in Lower Bavaria. The company has 138 employees (plus eight) and is represented in over 40 countries worldwide.
As an institution of growth crystallized the serial of METRON 07 commented Dürrmeier. With a new automatic test system which is nearly market-ready, the developer from Lower Bavaria tooks in the business worldwide a pioneer-part again tells the MESUTRONIC manager.
Due to the global demographic trends, the demand for food and medicine increases and hence the need for metal detection systems that monitor the production. If the sensors detect a metal particle, the contaminated product package is automatically removed from the product stream, Mr. Dürrmeier describes the function of Mesutronic systems.
Parallel and independent product test
In order that the production processes comes up to the international quality standards such as IFS (International Food Standard) or BRC (Britisch Retail Consortium), the detectors has to be tested continuous during production. Until now employees of MESUTRONICs customers related to food sector had to test the functional assurance manually. For this the detection accuracy was checked with prepared metal test pieces at regular intervals. The shorter the distance test, the better process reliability, says Dürrmeier. Accordingly the innovation of MESUTRONIC is developed: The Lower Bavarian developers have built an electronic monitoring system that is able to simulate the signals from metal test pieces and performs the required sensitivity check automatically. These automated tests are safe from manipulation and documents functionality and sensitivities promised Dürrmeier.
Focus on Food and Pharmaceutical
About half of its revenues has Mesutronic in the food and healthcare sector. Surprisingly well was the business with products for the textile industry in the past year, whereas demand for metal detectors in the wood sector stagnates due to existing overcapacity of sawmills in Western Europe.
The export rate is still constant at 64 percent according to Mr. Dürrmeier. But the growth opportunities for MESUTRONIC are significantly greater than in Germany. Because of the size of the markets, the US and China are particularly important sales channels. The current external situation in the Ukraine is not without consequences for MESUTRONIC too: Industrial companies that invest in Russia, places their orders often under reserve.
Organisation and Personal
The internal organization is according to Mr. Dürrmeier aligned with the planned growth. In late summer 2014 the final decision for the plant expansion will be come up. So, the existing production and office space (2.500 qm/800 qm) should be doubled. We are in the final stages of planning, tells the managing partner. The workforce has increased to 138 last year into eight people. Against future skills shortage MESUTRONIC equips with a high proportion of apprentice. 13 trainees are in the company in Kirchberg employed. The intention is to keep the trainees employed after their apprenticeship. Study-related internships and practical theses are possible for students.
More about Mesutronic Gerätebau GmbH:
Mesutronic Gerätebau GmbH belongs to the global leading developers and manufacturer of innovative metal detection systems. With 138 staff members, under it 13 apprentice, Mesutronic generated in location Kirchberg im Wald (district Regen) 2013 dealings amounted of 14.4 Million Euro. Metal detection systems of Mesutronic are used in sectors Food/Pharma, Plastics, Textile and Wood for consumer and machine protection. Mesutronic started 1993 with five employees in an area of 250 qm. Since 2005 the Lower Bavarian metal detection manufacturer produces in a company building with  2.500 qm area of production and office. 2008 it became a 300 qm storage, 2013 a further storage place of 300 qm. In more than 40 countries around the world Mesutronic is represented with sales and service offices.
Source: Dipl. Kaufmann (Univ.) Josef König Journalist www.koenig-online.de
07.11.2013 - Industrial metal detection in demand
With electronic serendipity safely on the road to success
MESUTRONIC put 2012 in sales of 4.8 percent to 13.0 million euros / 130 Employees / Expansion: capacity is doubled
KIRCHBERG IM WALD 06.11.13/jk – The global active in 40 countries metal detection technic – manufacturer MESUTRONIC Gerätebau GmbH in the Bavarian forest in Kirchberg (distr. Regen) remains on the road to success. With its electronic sensors for detecting foreign bodies, for example in the food industry, the company increased sales by 4.8 percent to 13.0 million euros (2011: EUR 12.4 million). "We take a breath for the next summit ascent" describes Karl-Heinz Dürrmeier (54), managing partner, the situation. The 130 employees will produce this year expected to be 14 million euro sales volume. The management is planning to double its production capacity in the coming years.
Mesutronic sets up according to Karl-Heinz Dürrmeier for next milestones. The moderate growth in 2012 was founded to an internal fitness program. The sales and organizational structure which is remained from early times have constricted like a corset and was now focused on further expansion: "The new organization dress can grow for several years" says Dürrmeier. In the next few years if it gets a normal course of activities in the market an expansion of capacity planned. So the existing production and office space will be doubled to 2,500 sqm and 800 sqm. "The ambitious expansion gives the marching direction: We want to double sales by 2020" plans Dürrmeier.
The new model series METRON 07 has gone down well in the market told Dürrmeier. "The Previous models will be replaced." The innovations with a totally new approach of system has been well received by customers according Dürrmeier. Especially growth opportunities expects Dürrmeier in food and pharmaceutical sector, which contributes about 50 percent of sales success.
In the food industry Mesutronic metal detection technology is mainly used to protect consumers from unwanted contaminants. Due to the increasing world population increases the demand for food in general as well. The increasingly prosperity changes the eating habits to industrially produced foods such as frozen foods or convenience products. This trend benefits Mesutronic, tells Dürrmeier.
ALUSCAN finds broken needles
The development and improvement of the detection devices remains a solid business issue: Particularly pleased is Dürrmeier, if an existing detection system solves a problem for which it was not originally designed. A recent success of Mesutronic technology is in finding injection needles in neck of pork with the AluScan device. With conventional detection technique and X-ray devices, the remains of vaccination programs are difficult to locate. The intelligent, passive magnetic sensor of AluScan works in contrast to X-ray scanners free from wear and causes in fact no operator intervention. "Even fragments of injection needle become detected equally well in any orientation." Originally AluScan had been developed for checking stable aluminum packaging.
Another growth area Mesutronic next to the food industry is the pharmaceutical industry. Global demographic evolution with an aging population increases the production of medicines and dietary supplements. This will tow an additional demand for metal detection, predicts Dürrmeier. The newly developed "Pharmatron" series for the pharmaceutical sector is at the swell of rollout. The performance of the device for the detection of foreign bodies in tablets was well at trade fairs. In plastics, textile and wood sector metal detectors are used for machine protection; because metal particle destroys machines, grinders or saws.
The export increased, according to the Mesutronic managing 64 percent (previous year: 60 percent). The foreign activities happen one half each within Europe and the rest of the world.
China and the US are especially important for Mesutronic because of the size of the markets.
In Europe, the most important markets are in Belgium, Austria, Turkey, France and Poland.
Apprenticeship against skills shortage
The staff has been increased in line with sales growth. The number of employees rose from 112 in 2011 for eleven to 123 employees in 2012. In the current year, the staff has been increased to 130 employees. Mesutronic is currently looking for qualified staff for the sales department (m / f) who have a basic knowledge of electrical engineering and speak business fluent English. Against future skills shortage, the company is already preparing today with a high proportion of trainees. Twelve of the 130 current employees undergo training at Mesutronic. The target is to keep on the trainees after their apprenticeship in the company.
Study-related internships and practical theses are available for students, says Dürrmeier.
About Mesutronic Gerätebau GmbH
Mesutronic Gerätebau GmbH is one of the world's leading developers and manufacturers of innovative metal detection systems. With 123 employees, including twelve trainees, Mesutronic generated at the location Kirchberg im Wald (distr. Regen) in 2012 revenues of EUR 13.0 million. Currently 130 people are employed. Metal detection systems of Mesutronic are used in the sectors of food/pharmaceutical, plastics, textile and timber for consumer and machine protection. Mesutronic began in 1993 with five employees on an area of 250 sq.m.
Since 2005 the Lower Bavarian metal detection manufacturer produces in a company building with 2,500 square meters space of production and 800 square meters space of office. 2008 a 300 square meter storage was extended, another storage area of 300 sqm came 2013. In more than 40 countries around the world Mesutronic is represented with sales and service offices.
Source:
MESUTRONIC Gerätebau GmbH
Hackenfeld 13
94259 Kirchberg im Wald
Tel.: +49 9927 9410 0
Fax: +49 9927 1732
www.mesutronic.de
10.04.2013 - Medicine for metal poisoning! PHARMATRON 07 HQ
The PHARMATRON 07 HQ metal separator is a new item in the PHARMATRON series from MESUTRONIC Gerätebau GmbH. The separator is used in pharmacies after tablet presses or tablet de-dusters and offers maximum metal sensitivity for the detection of metal contaminants in the product in accordance with the standards of the industry.
A multi-functional chassis with vertical and lateral adjustment has been developed to provide the best possible solution for the flexible integration of the metal separator in different production process steps. The ejection mechanism has a special quick-release fastening for the fast and effective cleaning of all parts that come into contact with the product. After opening, all cleaning parts are available in seconds – entirely without tools. Naturally all parts of the mechanism have a hygienic design. The robust stainless steel housing of the ejection unit with its integrated ejection flap ensures the reliable separation of contaminated products. The flap is driven electromagnetically.
The PHARMATRON 07 HQ is usable in different versions: as a standard version with chassis or as a version for integration in vertical tablet de-dusters, or as a dust-proof (DP) or wash-in-place (WIP) version. The appliance is equipped with new AMD 07 evaluation electronics, which among other things enable connection to the modern mesuNET network solution (MESUTRONIC multilink network). Efficient data management and remote maintenance as well as the operation and monitoring of any number of metal detectors can thus be realised. The colour touchscreen display provides for easy and time-saving operation. A USB stick simplifies the uploading and downloading of operating and product data and IQ/OQ documents are available for your validation and adherence to the GMP directives.
Source: MESUTRONIC Gerätebau GmbH
Hackenfeld 13
94259 Kirchberg im Wald
Tel.: +49 9927 9410 0
Fax: +49 9927 1732
www.mesutronic.de